Do you know the power of LinkedIn in connecting your business to a world of professionals? Want to know how to utilize this platform to scale your company's following and reach? Well, in today's digital age, having a strong presence on LinkedIn is essential for any business or professional. It's a platform where connections turn into opportunities and where your brand can boom. But how can you stand out in a sea of profiles and capture the attention of your target audience?
In this blog, we'll take a look into the simple but effective strategies and techniques that will skyrocket your LinkedIn company page followers. So, let's get started;
LinkedIn's Business Potential
LinkedIn is no longer just a platform for job-seekers and recruiters; it's a goldmine for businesses eager to establish a credible and influential online presence.
Enhance Brand Visibility

: Your LinkedIn company page enhances your brand visibility. It's a platform where potential clients, partners, and even future employees can learn about your company's vision, values, and offerings.
Showcase Services/Products

: LinkedIn allows you to showcase your products, services, or even your employee culture in a professional and appealing way. It's like having a dedicated website but within a network of nearly 900 million professionals.
Thought Leadership

: Sharing well-researched and resourceful content can position your company as a thought-leader in your industry. This can significantly increase your company's credibility and attractiveness to potential clients and partners.
Lead Generation

: With advanced targeting options, LinkedIn is an effective platform for B2B marketing. Use sponsored content, InMail, or dynamic ads to reach your target audience and convert them into quality leads.
12 Simple Steps to Grow Your LinkedIn Company Page Followers
Here are 12 simple steps to grow your LinkedIn company page followers: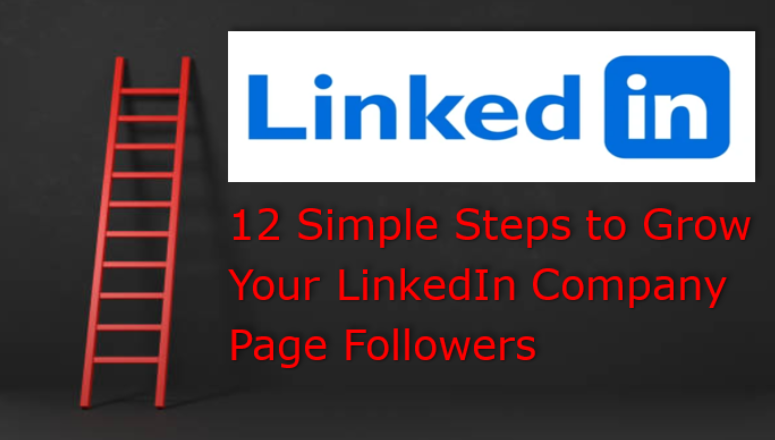 Optimize Your LinkedIn Company Page 
To make a killer first impression, optimize your company page by ensuring visually appealing visuals, a compelling profile, a captivating about section, and relevant information that will attract visitors. Make it clear why someone should follow your page and what they can expect to gain from it.
Share Informative and Engaging Articles, Blog Posts, and Videos
To attract and retain followers, consistently share informative and engaging articles, blog posts, and videos. Offer valuable insights, industry trends, and actionable tips that resonate with your target audience. This positions your company as a reliable source of information and builds trust among your followers.
Share Client's Success Stories
Highlighting your clients' success stories not only demonstrates your expertise but also showcases your ability to deliver results. By sharing these stories, you not only celebrate your clients' achievements but also inspire others to join your journey.
Utilize Employee Advocacy
Utilize the power of your employees by encouraging them to engage with your company page. Employee advocacy can significantly amplify your reach and increase your chances of attracting new followers.
Showcase Company's Values, Culture, & Behind-the-Scenes Moments
Humanize your brand by showcasing your company's values, culture, and behind-the-scenes moments. People connect with authenticity, so let them glimpse into the unique aspects of your organization.
Create or Participate in LinkedIn Groups
LinkedIn groups provide a valuable platform for networking and establishing yourself as a thought leader in your industry. Create your own group or actively participate in relevant existing groups. Engage in meaningful conversations, share insights, and build relationships with potential followers.
Utilize Hashtags and Keywords
Make your LinkedIn content discoverable by utilizing relevant hashtags and keywords. This will help your posts appear in search results and attract users who are interested in the topics you're discussing.
Collaborate & Network with Industry Influencers
Collaborating with industry influencers can amplify your reach and lend credibility to your LinkedIn company page. Collaborate on content, engage in conversations, and build meaningful relationships that can benefit both parties.
Host Webinars, Workshops and Live Events 
Capture the attention of followers interested in your niche by hosting webinars, workshops, and live events. Provide valuable insights and create interactive experiences that leave a lasting impression. Make sure to promote these events through your company page to maximize attendance.
Cross-Promote your LinkedIn Content on Other Social Platforms
Utilize your presence on other social media platforms to promote your LinkedIn company page. Cross-promote your LinkedIn content on platforms like X, Facebook, and Instagram to redirect your existing followers to your LinkedIn page. This not only expand your reach but also attract new followers.
Run Targeted LinkedIn Ads
LinkedIn's advertising platform offers powerful targeting options to reach your ideal audience. Run targeted ads to increase visibility, attract relevant followers, and drive engagement on your company page. Experiment with different ad formats and monitor their performance to optimize your campaigns.
Monitor LinkedIn Page Analytics and Adjust Strategies
LinkedIn provides valuable analytics to track the performance of your company page. Monitor key metrics such as follower growth, engagement rate, and content reach. Analyze the data and make adjustments to your content and strategies accordingly to ensure continuous improvement.
By implementing these 12 simple steps, you can effectively grow your LinkedIn company page followers and expand your network.
FAQ's
Q: Is it easy to gain followers on LinkedIn?
A: Well, it's not an easy task, but with some solid strategies and consistent effort, you can certainly grow your LinkedIn followers.
Q: Can you buy LinkedIn company followers?
A: Yes, you can. But remember, it's vital to opt for reliable sources such as SocialWick or SocialGreg to ensure you're getting genuine followers that can boost your LinkedIn presence.
Q: How to get more followers on LinkedIn?
A: The key lies in utilizing a combination of effective strategies. Engage with your audience through thought-provoking and valuable content. Network strategically by joining relevant groups and participating in conversations. And yes, you can even give yourself a little boost by buying LinkedIn page followers and likes from trusted providers like SocialWick.
Concluding Remarks
In conclusion, amplifying your LinkedIn presence is a dance of strategy, creativity, and consistency. By implementing the simple steps outlined in this blog, you can see remarkable results and expand your online presence. So, stay authentic, be consistent, and remember to offer value in every post. Good luck and thanks for reading!