Every music composer or producer has varied experiences of using a keyboard. While some prefer the speed of synth-action key beds, others go for the heaviness of the piano keys. And some people can do anything that helps them create a tune. The good news is that the MIDI keyboard controller is the perfect option for all preferences. A crucial tool for producers and musicians, the MIDI keyboard controller features sliders, knobs, widgets, and pads to help you edit synths, mix, browse sounds, and apply effects. 
There's a MIDI keyboard controller to create, edit, and arrange musical elements conveniently available in different sizes and shapes, with a varied number of keys, added controls, and features customized to specific user requirements. Starting from the full-sized 88-key models to the 25-key controllers for portability, making the right choice in this category can greatly enhance your music composing experience. Here are the top choices: 
Lumi Keys Studio Edition 
Create exclusive sound with the first-of-its-kind MIDI keyboard controller featuring whole-key illumination, polyphonic after-touch, and per-key pitch bend. Available in 1 Key and 2 Keys Bundle, the product comes with a 30-day return policy, free cancellation, free shipping, and lifetime support. The Lumi Keys Studio Edition Bundle includes a dimension art sound pack, ROLI Studio software suite, free snap case, synthetic resistance sound pack, and an evolving classics collection.  
With a USB/DNA input voltage of 5.0V to 0.2V DC and a rechargeable internal battery of up to 2,300mAh, this MIDI keyboard controller features 4 DNA connectors, a USB-C port, and full MIDI compatibility on Bluetooth and USB.  
Available with a DS5.5 key size, the Lumi Keys Studio Edition features an innovative design with keys and chassis made of superior quality materials, magnetic DNA connectors, and keys 7/8 the width of standard keys for playability and compactness. Added to these features is the product's compact size, which makes it supremely versatile, and at 677g, it weighs the same as an iPad Pro.  
Also, Lumi Keys is the first MPE controller featuring a Four-Dimension touch that will completely transform your tracks. And then there's the bent pitch featuring vibrato-like motions on each key to deepen the sounds through constant pressure. One of the brightest keyboards ever made, the Lumi Keys also features hundreds of standard MIDI and MPE sounds and an assortment of production features. Best of all, you can even customize the Lumi Keys to suit your style and project through modes like Piano, Stage, User, and Pro.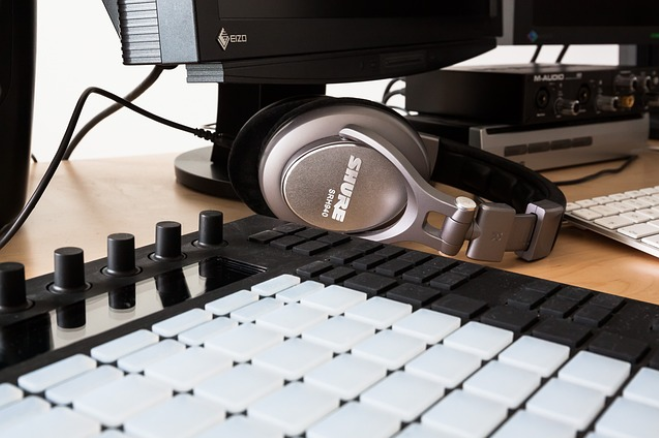 Novation Launchkey Mini MK3 
Portable and compact, this tiny keyboard controller comes with all-inclusive features and seamless integration with Ableton Live. This 25-mini key MIDI Keyboard controller works perfectly with a tablet or laptop and fits into any bag for on-the-go music production.   
Though light in weight with only a couple of octaves and slim-line keys, the controller has several additional controls, like 16 velocity-sensitive RGB pads, two touch strips for modulation and pitch bend, and eight rotary knobs. Not to mention the all-new mini-key mechanism that offers an extremely enjoyable experience.   
The powerful arpeggiator features a customizable beat, rhythm, octave, pattern, and gate that offers hands-on control of your DAW or digital audio workstation, effects, and instruments. This way, you can focus more on your music and less on your computer screen. 
Arturia KeyStep Pro 
One of the best MIDI keyboard controllers for portable hardware integration, the Arturia KeyStep Pro is for music producers looking for small or compact controllers that deliver great performance.   
One of the best things about this 37-key controller is it lets you spend more time on the keys instead of looking at your computer screen. With features like after-touch and velocity-sensitive keys, the Arturia KeyStep Pro does everything you may expect from a standard keyboard controller, from integrating with your DAW to bringing hardware together and offering an intuitive performance. 
The greatest selling points of this massively featured keyboard controller are its extensive connectivity options, four-track onboard polyphonic sequencer, and even a drum sequencer. These highly creative performance tools make it easier for you to use the controller without DAW. Other significant features of the instrument include a brilliant arpeggiator, an OLED screen, and an in-built metronome. Within extensive connectivity options, you get added hands-on control through touch strips transport buttons, and configurable CV/Gate/Mod outputs.   
Native Instruments Komplete Kontrol S61 
If you are in the market for a smart MIDI keyboard controller, the Native Instruments Komplete Kontrol S61 is the right choice. Featuring on-key LEDs and a minimalist design, this high-end keyboard controller comes with 61 semi-weighted keys and many other features, like after-touch and assignable controls. These include a 4-directional push encoder, eight touch-sensitive knobs, mod wheels, and pitch.  
Offering deep integration with NI VSTs and superior quality key beds, this advanced keyboard controller perfectly combines intuitive control and professional features for great music performance and production. Then, there's the assignable touch strip for expanded creative potential.   
With functionalities like metronome, quantize, mute/solo, and loop, the controller offers advanced control on leading digital audio workstations. The controller also excels in auto-mapping Native Instruments software and comes with a couple of superior-quality displays, allowing users to browse instruments and sounds by type and tag. 
Conclusion  
The options above cater to varied skill levels, preferences, and budgets. From advanced control options to feature-packed models, this diverse range of MIDI keyboard controllers highlights portable and compact designs, ideal for on-the-go music producers. So, there's something for everyone on this list.