Event photography, like any other profession, requires not only technical expertize but also a solid understanding of financial management – and capturing the perfect event photograph is only one piece of the puzzle. Effective financial management forms the bedrock of a thriving photography business and often plays a crucial role in its success and longevity.
Understanding the Importance of Financial Management
Being an event photographer isn't merely about harnessing creativity and passion; it's a business. Thus, understanding the fundamentals of financial management is crucial. Good financial planning allows you to maintain profitability, anticipate future financial needs, manage uncertainty, and facilitate business growth. A strong financial management strategy can keep you out of debt, giving you room to reinvest in your business and potentially expand it.
Setting a Budget: The Cornerstone of Financial Management
Setting a budget is the first step to a successful financial management plan. You need to identify your income sources and fixed costs. Fixed costs for an event photographer may include equipment such as camera lenses, memory cards, lights, software subscriptions, studio rentals, and insurance. Variable costs such as travel expenses for different events and additional equipment rentals should also be considered.
The income from event photography can fluctuate due to the seasonal nature of the work. A well-planned budget can give you a clear picture of your financial health, aiding you in adjusting your spending accordingly.
Controlling Expenses: Keep Your Costs in Check
Expense control is as crucial as setting a budget. Once you've identified your costs, find ways to minimize them without compromising the quality of your output. This could involve negotiating better deals with vendors, considering buying high-quality used equipment, opting for free or open-source software alternatives, and implementing energy-saving measures.
The Role of Financial Management Tools
The advent of technology has led to the development of numerous tools to simplify financial operations. Apps and software platforms can help you track income and expenses, and manage your budget more efficiently. Some tools even offer features to invoice clients, track payments, and manage taxes.
Embracing Digital Invoicing
Digital invoicing can streamline your financial management. It can provide a more straightforward way to bill your clients, track payments, and stay on top of outstanding invoices. Plus, it's an eco-friendly alternative to traditional paper invoices.
The Importance of an Emergency Fund
The event photography business can be unpredictable. You might experience periods of slow business or face unexpected expenses. An emergency fund serves as a financial safety net during these times, helping your business weather the storm during challenging periods.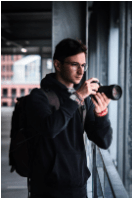 The Power of Cash Flow Forecasting
Cash flow forecasting is another vital aspect of financial management. It provides you with an estimate of the amount of money that will flow into and out of your business. This information can help you plan for growth, manage your cash flow effectively, and avoid many potential financial pitfalls.
Planning for Taxes
As a self-employed event photographer, you're responsible for paying your own taxes. Make it a habit to set aside a portion of your earnings for tax payments. Consider hiring a tax professional to ensure you're taking advantage of all possible deductions and keeping up with the ever-changing tax regulations.
Investing in Continued Learning
Investing in continued learning can open doors to more gigs and higher-paying projects. This could involve attending workshops, enrolling in online courses, or subscribing to professional platforms, like Splento. By enhancing your skills, you're making a wise investment that can greatly benefit your business in the long run.
Exploring Different Revenue Streams
Multiple revenue streams can bolster your income and provide financial stability during quieter periods. In addition to your event photography services, consider offering related services such as photo editing, prints, or licensing photos for commercial use. You could even offer workshops or online courses if you have significant experience or a unique photography style.
Conducting Regular Financial Audits
Conduct regular financial audits to review your income and expenses, compare actual numbers with your budget, and adjust as necessary. If a certain category or a specific type of event photography brings in more revenue, regular audits can help you identify these trends and adapt your strategy accordingly.
Hiring a Financial Adviser
If dealing with financial matters isn't your forte, consider hiring a financial adviser. They can help you develop a robust financial plan, provide tax advice, and even suggest suitable investments for your profits.
Investing in Marketing
Marketing is an investment that can significantly increase your visibility, attract more clients, and thus generate more income. It's essential to track your marketing costs and the results they generate to ensure it's a worthwhile investment.
Building a Network
Building a professional network can lead to referrals, which are often a valuable source of new business for event photographers. Joining professional organizations or online communities can help you network and grow your business. Platforms like Splento provide access to a network of professionals and potential clients, along with educational resources and tools to help improve your skills and manage your business.
Retirement Planning
Lastly, don't forget about retirement planning. Start as early as possible and increase your contributions as your income grows. As a self-employed photographer, you're responsible for your own retirement savings.
In conclusion, financial management for event photographers involves understanding the business model, setting a budget, controlling expenses, utilizing financial tools, planning for taxes, and investing in continued learning. By effectively managing your finances, you can ensure the long-term success and growth of your event photography business.