As nail art is continuously evolving, many new nail shapes are increasingly popular. Coffin nails are one of the hottest trends for nail shapes and designs.
What exactly are coffin nails, and why are they so popular? Learn all about this trendy nail design with tips from the experts below. As well, check out some of the hottest looks for this nail shape.
Coffin Nails 101: Get the Facts
What Are Coffin Nails?
Coffin nails are thus named so due to the fact that they are, indeed, shaped like a coffin. They are often referred to as ballerina's nails, as they are similar. However, there is a slight difference between these two popular nail shapes.
Ballerina's nails are named such as they resemble ballet shoes worn by ballerinas. Thus, their sides are curved softly to form a square, narrow tip resembling ballerina slippers. However, coffin nails are designed so that their sides are a sharp, defined edge that also creates a square. Therefore, the two nail shapes often get confused with one another, but they are, in fact, different shapes.
Why Are Coffin Nails So Popular
This nail shape has grown in popularity over the last few years. They are rumored to have first appeared on a popular reality TV show. They are right up there as far as trend-setting with the also popular stiletto nails. White coffin nails are extremely trendy at this time. However, any and every color and nail design goes well with coffin-shaped nails.
You should know that coffin nails come with a hefty price tag. This is due to the fact that it takes a skilled nail technician to artfully craft coffin-shaped nails. As well, it is recommended to only ask for acrylics for this nail shape. Acrylic nails are sturdy and less prone to breaking and chipping than other materials, such as gel nails.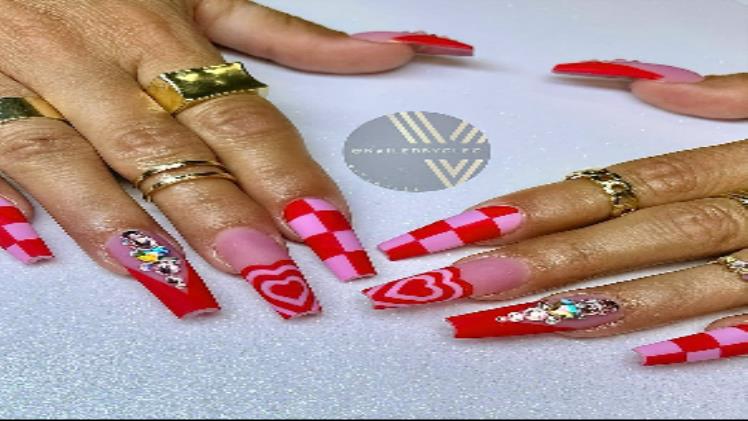 What Are The Pros and Cons Of Coffin Nails?
Pros of Coffin Nails
Coffin nails are suitable for any nail length.
As well this nail shape is suitable for natural nails. However, as stated above, acrylic nails are recommended as opposed to gel nails to avoid breakage.
Coffin-shaped nails are extremely flattering and make your nails look both longer and slimmer.
Coffin nails are extremely trendy and extremely popular with avant-garde crowds, such as goths and other trendsetters.
Cons of Coffin Nails
Coffin nails are prone to breakage if not properly cared for.
We do not recommend DIY coffin-shaped nails. To achieve this trendy nail shape, visiting your favorite nail salon for a trained nail tech is best.
How Do You Care for Coffin Nails?
1.   Proceed with caution
As we have previously advised, this nail shape is not for the faint of heart. Their unique shape is stylish but prone to breakage. Always ask for acrylic nails if you choose to go with this stylish nail shape. However, you still need to be cautious in your daily life to prevent breakage. Proceed with caution carrying out everyday tasks such as opening bottles, cans, and even doors, and so on.
2.   Steer clear of harsh chemicals
To protect your coffin-shaped nails, it is best to shy away from any harsh chemicals. This includes acetone nail polish, heavy cleaners, and other types of harsh products and chemicals.
3.   Keep your nails and hands moisturized
One of the keys to healthy nails is to moisturize your hands and nails regularly. This should be done both in the morning and evening, as well as after you wash your hands. If your skin is not hydrated properly, your nails and cuticles are more prone to both damage and infection.
4.   Use cuticle oil to protect both your cuticles and nails
In addition to moisturizing your nails and hands, cuticle oil is highly recommended. Quality cuticle oil protects your cuticles from damage. Apply it at least once a day for healthy cuticles and nails. Keep both a bottle of cuticle oil and hand lotion with you as you go about your day.
Now that you are informed about the nature of coffin nails check out some of the hottest looks for this trendy nail shape below. The options are limitless from ombre to geometric designs to gems and animal prints or marbled nails!