In recent years, advancements in technology have revolutionized the way we interact with our environment and entertain ourselves. One such innovation that has garnered significant attention is interactive projections. Combining the power of projection technology with interactivity, these immersive experiences have opened up new possibilities in various fields, from entertainment and art to education and advertising. In this blog post, we will delve into the world of interactive projections, exploring what they are, how they work, and their potential applications in different industries.
Understanding Interactive Projections
Interactive projections refer to the integration of projected images or videos with interactive elements, allowing users to actively engage with the projected content. Unlike traditional projections that are passive and static, interactive projections enable real-time interaction, transforming any surface into an interactive canvas. By utilizing sensors, cameras, or other input devices, these systems can track user movements, gestures, or touch, enabling dynamic responses and creating an immersive experience.
How Do Interactive Projections Work?
The technology behind interactive projections involves a combination of hardware and software components. Here's a simplified breakdown of the typical setup:
Projection System: A high-quality projector is used to project images or videos onto a surface such as a wall, floor, or object. The projection surface can range from small areas to large-scale installations like building facades or entire rooms.
Input Devices: Various input devices are employed to capture user interactions. These may include cameras, infrared sensors, depth sensors (e.g., Microsoft Kinect), or touch-sensitive surfaces.
Tracking and Sensing: The input devices track the user's movements, gestures, or touch on the projection surface. The data collected is then processed by specialized software algorithms.
Software and Content: Interactive projection systems rely on software to interpret the user's actions and generate appropriate responses. Content creators design interactive experiences using programming languages, frameworks, or specialized software platforms.
Feedback and Response: Based on the user's interactions, the system generates real-time feedback in the form of dynamic visuals, sound effects, or even haptic feedback, creating an engaging and interactive experience.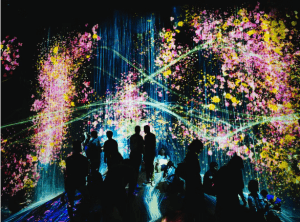 Applications of Interactive Projections
Entertainment and Gaming: Interactive projections have immense potential in the entertainment industry. They can be used to create immersive gaming experiences, interactive art installations, or even interactive theater performances. Virtual reality (VR) and augmented reality (AR) technologies can also be integrated with interactive projections to further enhance user engagement.
Education and Training: Interactive projections offer exciting possibilities for education and training. They can transform traditional classrooms into interactive learning environments, allowing students to actively participate in lessons and simulations. From interactive maps and 3D models to virtual science experiments, interactive projections make learning more engaging and memorable.
Advertising and Marketing: In the world of advertising, interactive projections can captivate audiences and deliver impactful messages. Interactive product displays, interactive storefronts, or interactive billboards can provide unique and memorable experiences that grab attention and drive consumer engagement.
Public Installations and Events: Interactive projections can be used to create stunning visual displays for public installations and events. They can transform landmarks, building facades, or public spaces into interactive canvases, allowing people to become a part of the artwork and fostering community engagement.
Retail and Hospitality: Interactive projections have found applications in retail and hospitality industries. They can be used to create immersive shopping experiences, interactive product showcases, or dynamic visual displays in hotels and restaurants. Interactive mirrors in fitting rooms or interactive tables in restaurants are examples of how this technology is reshaping customer experiences.
Conclusion
Interactive projections represent a fascinating convergence of technology and creativity. With their ability to transform static surfaces into dynamic, interactive experiences, they have become a powerful tool across various industries. Whether it's
immersing oneself in a virtual gaming world, engaging in interactive learning, or experiencing captivating advertising campaigns, interactive projections have the potential to redefine how we perceive and interact with our surroundings.
As the technology behind interactive projections continues to advance, we can expect even more exciting applications and innovations in the future. Advancements in gesture recognition, facial tracking, and real-time rendering will further enhance the immersive qualities of interactive projections, providing users with more natural and seamless interactions.
Additionally, the integration of artificial intelligence and machine learning algorithms can enable interactive projections to adapt and respond intelligently to user behaviors and preferences. This opens up possibilities for personalized experiences tailored to individual users or dynamically changing environments.
However, like any technology, there are considerations to keep in mind when utilizing interactive projections. Privacy concerns and data security should be addressed, especially when capturing user data for tracking and personalization purposes. Content creators and businesses must also strike a balance between the interactive elements and the overall user experience, ensuring that interactions are intuitive, meaningful, and not overwhelming.
In conclusion, interactive projections have transformed the way we engage with digital content and physical spaces. From entertainment and education to advertising and events, interactive projections have the power to captivate, educate, and inspire. As the technology continues to evolve, we can look forward to a future where immersive experiences become even more integrated into our daily lives, pushing the boundaries of creativity and interaction.
Whether you're a technophile, an artist, an educator, or a business owner, interactive projections offer a world of possibilities. Embrace the potential of this innovative technology and explore the exciting realm of interactive experiences that await.